2020 Application Guide for International Students
By CTUAS | 2020-03-11
Dear prospective students,
Welcome to join us as a HUSTer!
Huazhong University of Science and Technology (HUST) is a top-ranking and national key public university directly under the administration of the Ministry of Education, P. R. China. Located in Wuhan, a higher education center in China, HUST is one of the best universities which attracts students and talents from home and abroad.
HUST covers an area of over 460 hectares and has been honored as the "University in the Forest" with a 72% greenery coverage. It offers its students first-class services, quality education and abundant library resources. At present there are around 55,000 students registered on campus, out of which 3,400 are international students from 155 countries.
Since 1952 when it was founded, HUST and its faculty have been devoted to the development of a dynamic and innovative comprehensive university. At present,HUST has 40 academic schools offering a variety of degree programs, including 99 undergraduate programs, 202 master programs and 189 doctoral program. Among all these programs, 5 undergraduate programs, 81 master's programs and 87 doctoral programs can be instructed in English. Eighty-five percent of the international degree students are registered in the English-medium programs.
HUST plays a leading role in research with 50 national and provincial research bases and nearly 40 kinds of academic journals of domestic and international distribution.
The application for the HUST 2020 fall semester intake starts from January, 2020. All the degree and non-degree programs are open for application. You are most welcome to choose us and start your dream from here.
Online application can be completed at http:www.ctuas.com
We are looking forward to meeting you at HUST in the year of 2020.
Huazhong University of Science and Technology, Wuhan, China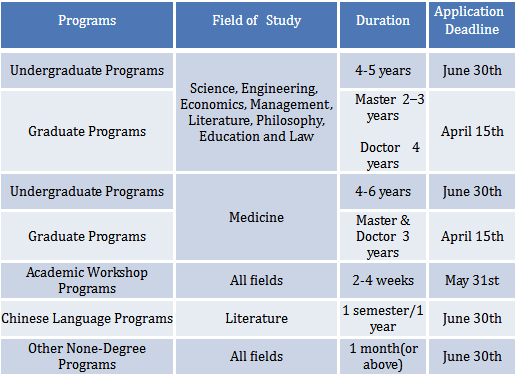 Most Popular Programs
Undergraduate Programs in English Medium:
Clinical Medicine (MBBS), Pharmacy, Mechanical Design, Manufacturing and Automation, Telecommunication Engineering, International Economics and Business
Graduate Programs in English Medium :
International Trade, Business Administration, Administrative Management, E-government, Information and Communication Engineering, Computer Applied Technology, Civil Engineering, Biomedical Engineering, Mechanical Engineering, New Energy Science and Engineering, Materials Science, Chemistry, Internal Medicine, Surgery and etc.
Chinese Company Internship Program :
Students could study Chinese language for 2- 3 months. After they master the basic Chinese communication skills and understand Chinese culture, students will be placed into a Chinese company for internship to understand how Chinese companies and business operate.
"Discover at HUST" Academic Workshops:
It is operated in summer or winter for students from World-class universities with an aim of providing students with advanced knowledge in various academic fields. Topics such as China's Economic Development Model, AI, Mobile Internet, Traditional Chinese Medicine, and Clean & Renewable Energy are covered. A series of highly informative seminars are offered. In addition, HUST also provides a dynamic social experience via city tours, cultural immersion and activities.
Note:
For more information about the programs, please visit the program list at http://www.ctuas.com
Students registered in the English-medium degree programs shall pass the Chinese Language Proficiency Test before they apply for graduation and degree. (HSK 4 for Undergraduates and HSK 3 for Postgraduates).
Eligibility and Requirements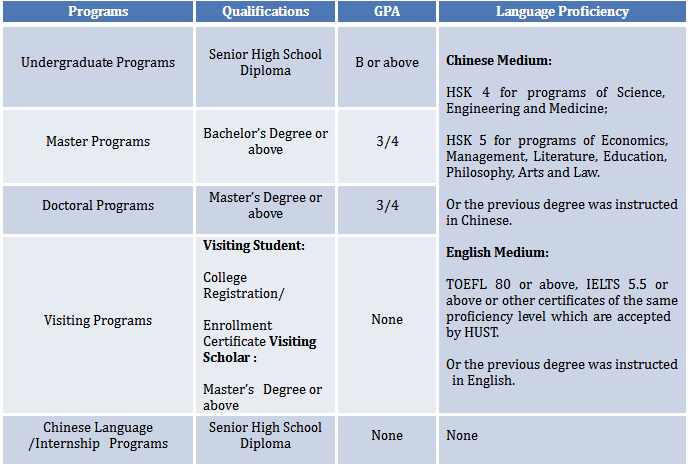 Note:
The above mentioned requirements are the basic standard for all applicants for HUST, not equal not the admission criteria. The GPA and language proficiency criteria for admission are decided by each school and department individually and might be higher than the basic requirement.
Being various in different countries, GPA systems, such as 3/4, 3.75/5 and 75% or an equivalent system, are all accepted by the university.
Current students applying for the graduate programs of HUST can submit an enrollment certificate as their qualification certificate. Furthermore, the required degree certificate should be submitted upon registration if they are admitted.
Application and Admission Procedures
Step 1.
Login the online application system at http:/www.ctuas.com/.
Step 2.
Choose a program, upload the required documents, complete your application and submit.
Step 3.
Finish the payment of application fee in due time.
Step 4.
Upon receiving the payment, the application will be reviewed by the HUST International Admission Office and evaluated by the school/department concerned.
Step 5.
Applicants that pass the evaluation will receive a Pre-admission Letter.
Step 6.
For postgraduate programs, the university will select scholarship candidates among the applicants, and nominate them to the relevant authority.
Step 7.
The university will issue the Admission Notice and Visa Application Form to both scholarship winners and those who accept self-paid studies.
Note:
The documents uploaded should be clear, complete, true and valid. Incomplete or false applications will be rejected.
Please check the status of your pre-admission, admission, scholarship and the admission package tracking number through the application system rather than emails or phone calls.
Application Fee
Applicants shall pay the application fee of 150 USD in 15 days upon completing online application successfully by:
√ Chinese bank card (China UnionPay)
√ Alipay
√ Wechat Pay
√ International bank card (VISA/Master).
Note:
The application fee is non-refundable.
The application fee for Visiting Students nominated by Partner Universities is waived.
Documents Needed for Application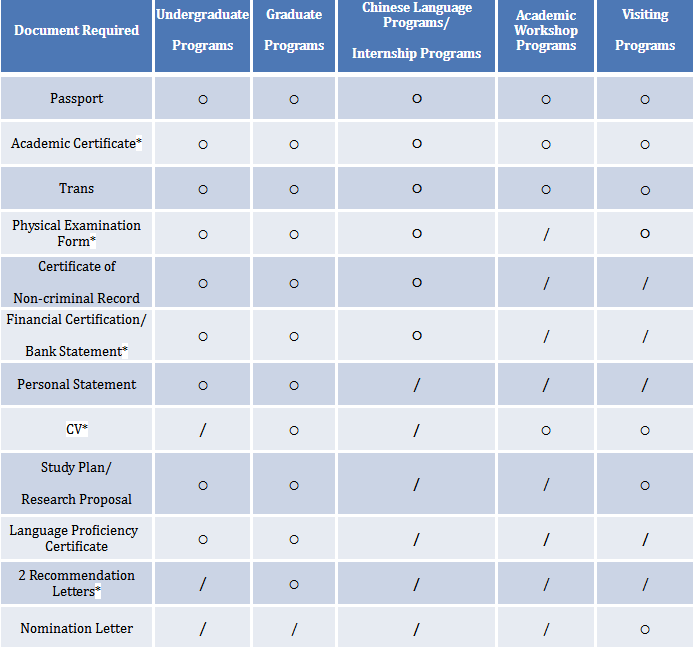 Note:
* Academic Certificate:
An official certificate of your highest education; or the official document of enrollment issued by the current school. Academic document issued in the third language should be notarized in Chinese or English editions.
* Physical Examination Form:
Please click to download. Those who are studying or working in China could upload the Health Certificate or Residence Permit instead.
* Financial Certification/Bank statement:
5,000 USD or above. Not required for the applicants for Chinese Government Scholarship.
* 2 Recommendation Letters: Signed by your former lecturers, professors/associate professors or the renowned in the field of your future study.
* CV: Including study and work experience, and publication list if available.
* Nomination Letter: Those who submit Nomination Letter from partner universities will be registered under the MOU between universities.
* Insurance: The university will buy insurance for scholarship and self-sponsored students. Other students shall buy student comprehensive insurance in China upon registration or submit an International Insurance covering their study peiod at HUST.
Tuition (CNY/Year)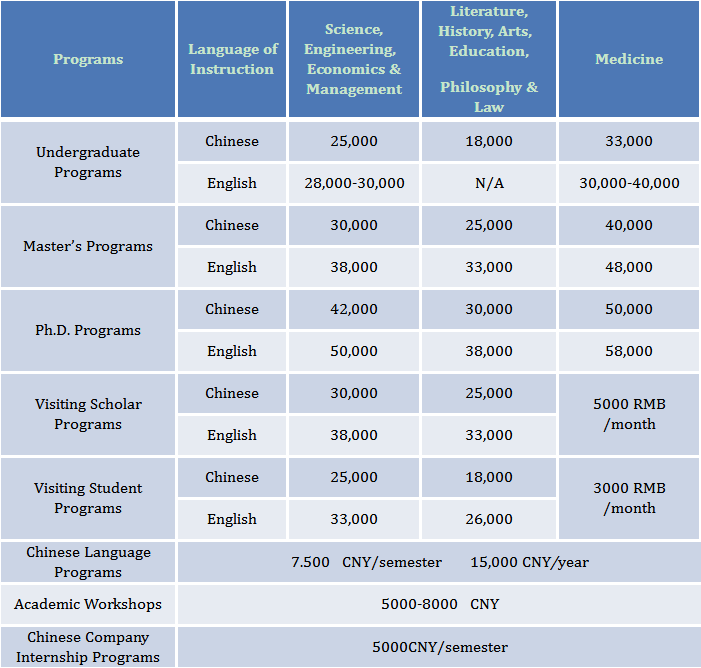 Tuition of English-medium undergraduate programs will differ.